At the beginning of the school year, I shared a post about a fun Rock, Paper, Scissors applet on the New York Times website.  Back then, my class used the applet to collect data for 2-way tables, and considered appropriate methods for displaying the data set.
Fast-forward 6 months: my AP Statistics class is knee-deep into hypothesis testing, and we're now up to Chi-Squared tests.  These are some of my favorite tests, as the data is often richer than what we find in tests for means or proportions.  Here's how we used the Rock-Paper-Scissors applet to produce data:
Teams played the game in veteran mode.
In round 1, teams were given 3 minutes to play the game normally, which I've labeled the "guts" method.
In round 2, teams were given 3 minutes to play the game randomly, using "randint" on their calculator to generate a digit from 1 to 3, which corresponds to a move.
We then considered an appropriate test for assessing the data.  This comes on the heels of Chi-Squared Goodness of Fit tests.  But here we have two samples, and we want to determine if the proportions are similar in both samples: this was our first test for homogeneity, and it was easy to move through the mechanics of the test.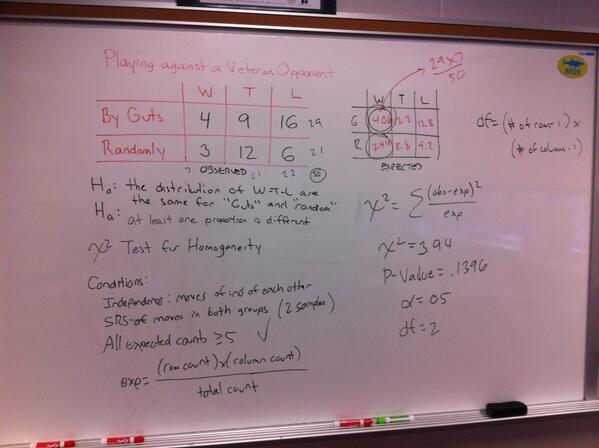 Doug Page also shared a worksheet he has developed for using the Rock, Paper, Scissors applet.  I do not have contact info for Doug, but I hope he provides some details on his success in the comments.
This activity will now become a yearly staple in my AP Stats arsenal!  Enjoy.